Each set of house plans from houseplansbydavidwiggins.com provides you with the necessary information to build your home. We pride ourselves on providing construction drawings that meet the highest standard for stock house plans, including meeting the latest IRC (International Residential Code). In some cases, plans may need to be adjusted and reviewed by a structural engineer or architect to meet specific local building codes, which is why all our plans are available in a CAD format, which easily allows the design to be edited.
Below is a detailed list of every sheet that is included in our house plan package, so you can confidently build your new home.
Detailed Floor Plans:

Fully dimensioned room sizes and interior spaces
Door and window sizes
Ceiling heights and floor finishes
Cabinet locations and tags to cross-section details
Location of kitchen appliances and plumbing fixtures.
Exterior Elevations:

All four elevations: front, rear, left and right
Plate heights of all exterior walls
Roof pitches
Overhang dimensions
Window header heights
Material call outs, siding, roof and trim
Details as required
Cabinet Elevations:
Sizes and configurations of cabinets
Finish materials
Plumbing fixture locations
Sections/Details:
Building sections as deemed necessary
Floor to floor ceiling heights
Structural materials noted
Details as required
Framing Plans:
Floor, ceiling and roof framing schematics
Size of members
Header schedule
General notes
Foundation Plans:
Slab foundation comes standard (no charge) with interior and exterior beams
Dimensioned and noted foundation layout, including references to support walls, excavated and unexcavated areas.
Basement floor plans may show additional walls and columns
Structural information for all foundation types should be obtained by a locally licensed engineer for your specific site location.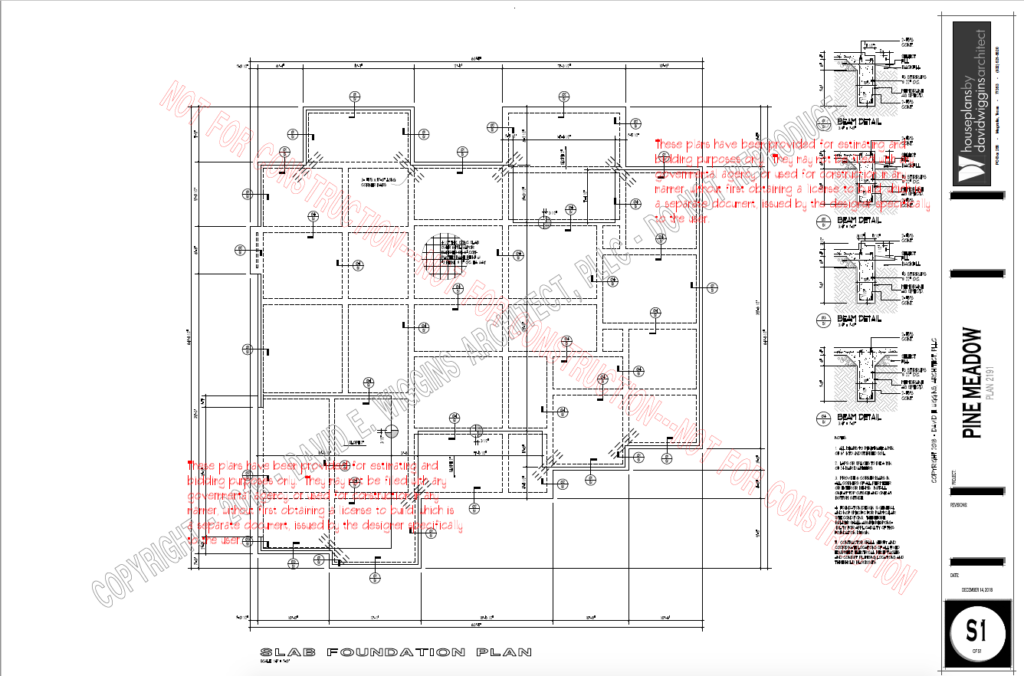 Electrical Schematics:
Location of all electrical outlets, lights, switches, smoke detectors
Indicates how lighting is switched
Does not include wiring sizes or circuiting