The newest trend in home design is called a barndominium. These prefabricated metal homes are gaining popularity because they are cost-effective, offer flexible, open living spaces and are extremely energy-efficient. With the rising cost in lumber, barndominiums are the perfect solution to building with conventional wood construction.
David Wiggins' first metal-framed barndominium, the Dos Riatas Ranch House Plan 2486 was Inspired by the construction methods of Mueller Metal Buildings, Inc. The entire frame is constructed in a factory and then delivered to the site where it can be bolted together in days.
House Plan 2486 is designed using a "bolt-up" metal building technology. The advantage of a "bolt-up" metal home is the ability to have the entire frame manufactured in the shop and delivered to the site where it is bolted together in a much shorter time frame than welding the connections which can take weeks or months. Exterior roofing and siding can be installed much faster on a barndominium than conventional residential construction techniques. View a 3D video of the construction process for framing barndominium House Plan 2486 using the bolt-up metal technology.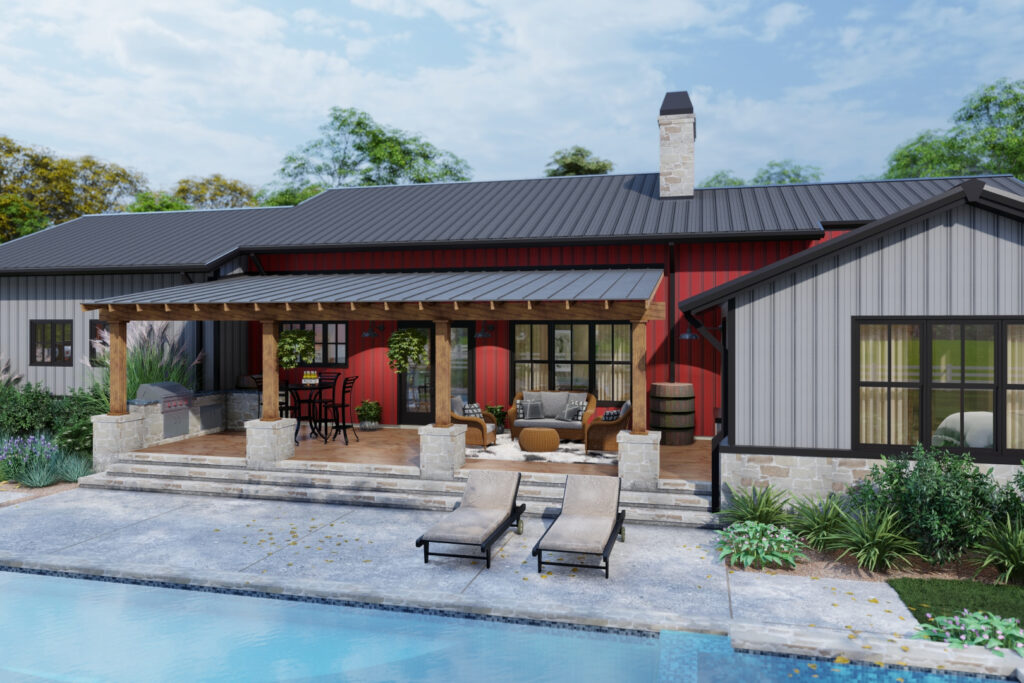 This rustic metal-framed farmhouse features 2,486 square feet with a welcoming covered veranda and 37′ x 14′ 9″ rear covered porch with outdoor kitchen, perfect for entertaining!
Highlights of this functional 3 bedroom open floor plan are a home office and country kitchen with island seating and walk-in pantry. The family room has a large fireplace with access to the covered porch. A 2-car side entry garage features a shop and easy access through the mudroom and laundry area.